Changed on 03/08/2023
The event took place between March 6 and 10 in Montevideo, Uruguay. It was attended by more than 20 speakers from the region, including the participation of the CEO of Inria Chile, Nayat Sánchez-Pi.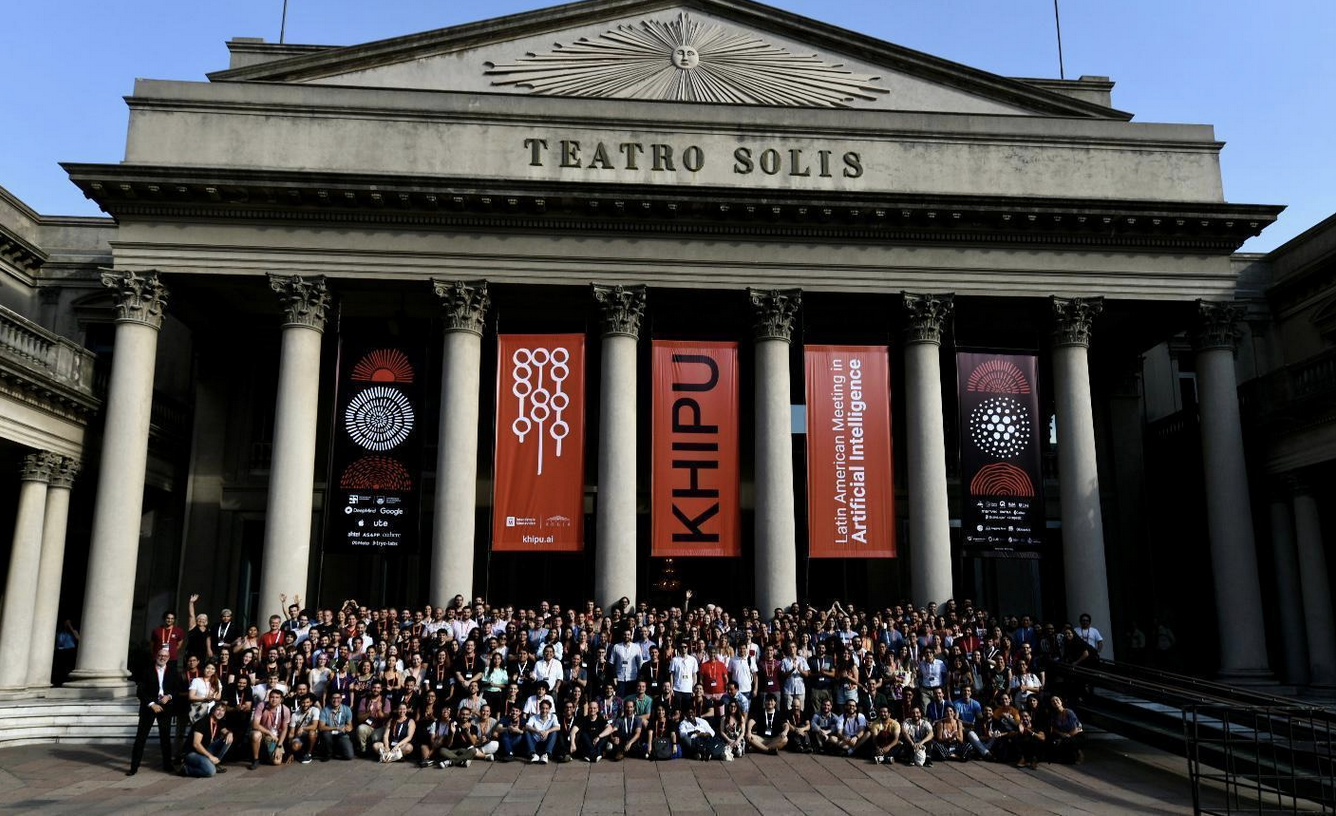 A new edition of Khipu, the Latin American Meeting on Artificial Intelligence, took place between March 6 and 10 at the University of the Republic in Montevideo, Uruguay. More than 20 distinguished speakers offered talks, research, workshops and round tables on advanced topics of machine learning, deep learning and reinforcement learning, to an audience of more than 300 undergraduate and graduate students, researchers and industry professionals from Latin America and the world.
Some of the speakers at these conferences were Samy Bengio, senior director of AI and Machine Learning Research at Apple; Peter Norvig, researcher at Google; Guillermo Sapiro, prominent professor of Electrical and Computer Engineering at Duke University; Nando de Freitas, lead scientist of the Google DeepMind ML team; Nayat Sanchez-Pi, CEO of Inria in Chile, and Luciana Ferrer, researcher at the University of Buenos Aires, among others.
Nayat Sánchez-Pi, from the French Institute for Research in Science and Digital Technologies based in Chile, gave a talk on Thursday, March 9 entitled "AI, the Ocean and Climate Change", where she referred to the relationship between the oceans and climate change mitigation, a virtuous cycle that presents extensive data and interesting challenges for artificial intelligence and machine learning.
In this context, she presented details of the OcéanIA project (oceania.inria.cl), which focuses on understanding how the oceans mitigate climate change, how this beneficial effect has deteriorated and how to protect it. To this end, it studies plankton communities, the main marine species responsible for capturing CO2 and the excess heat produced by these emissions.
In order to identify how these ecosystems implement these mitigation functions, such as carbon sequestration, the OcéanIA project uses two major types of data: images and genetic sequences. To date, more than 40,000 samples have been collected through more than 200 sampling stations at three depths, and about 7 million images have been captured that are under study and promise significant discoveries.
In addition, OcéanIA implements artificial intelligence methods such as causality, explainable AI, active learning, zero-shot, few shot learning, multi-task learning and self learning, in order to cope with the problems arising from the collection, classification and analysis of this vast amount of data.
Verbatim

The spirit of this project is not only to create models to correctly classify and predict the data, but also to bring these findings to scientists and policy makers by providing human-readable explanations to the causal interdependencies of the functioning of these ecosystems.
Auteur
Poste
CEO of Inria Chile
Montevideo Declaration on Artificial Intelligence
Within the framework of Khipu, more than 100 specialists from Latin America and the world signed the Montevideo Declaration on Artificial Intelligence and its impact on Latin America (link to text). Through this document, different actors linked to the research and development of these technologies committed themselves to generate criteria to define and make transparent their risks in order to advance in public policies that protect the common good and ethics in their progress.
"We must ask what social value it brings and the risks it entails, with an informed view of Latin American idiosyncrasies. It is also necessary to analyze and communicate honestly its limitations, without exaggerating its capabilities or making unproductive promises. There is no social value in technologies that simplify tasks for a few people, generating a high risk for the dignity of many others", the text states.