Changed on 09/05/2023
The research center and the French company present their partnership focused on promoting sustainable solutions for the mining industry at the Choose France space coordinated by Business France.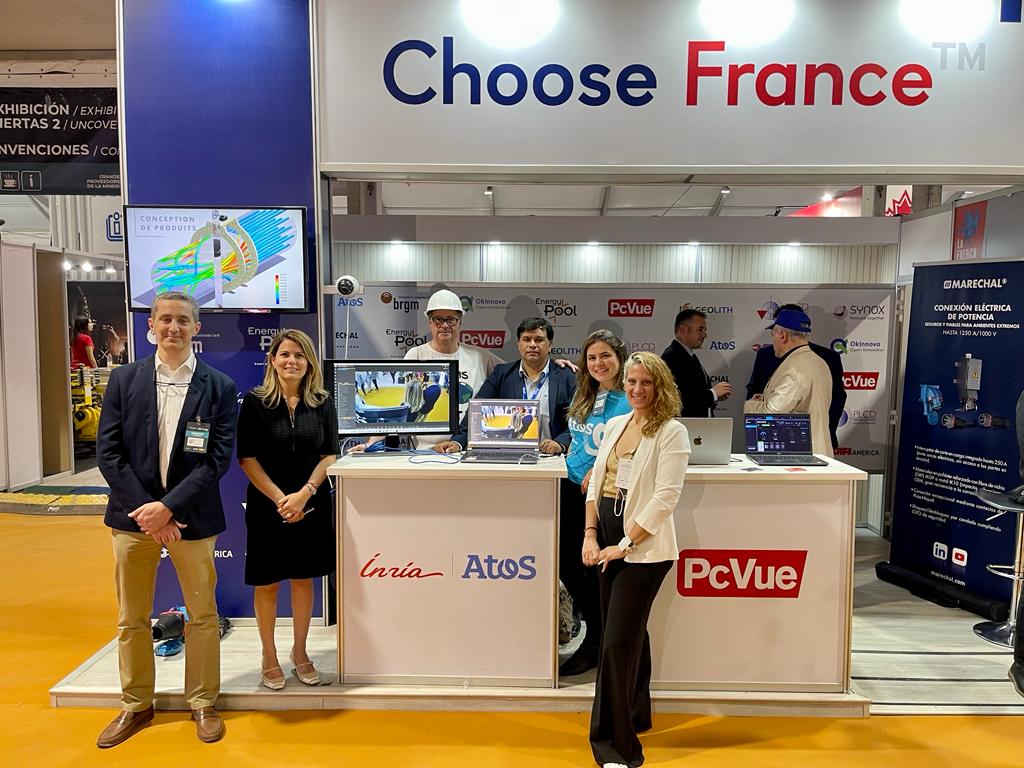 Inria Chile has joined forces with Atos, the French leader in digital transformation, and they are present at Expomin 2023, in the Choose France space, coordinated by Business France to showcase their strategic alliance aimed at creating solutions for the industry, incorporating state-of-the-art technologies to reduce emissions and increase efficiency. 
This partnership combines Inria Chile's expertise in research and development in digital sciences with Atos' innovation to offer solutions that integrate technologies such as artificial intelligence, the Internet of Things, data science, modeling and simulation to manage the impact of the digital carbon footprint, offering new ways to address the climate crisis and decarbonization. 
These solutions cover the entire production cycle and adapt to the specific needs of each client, enabling a sustainable transition, with increasingly less impact on the environment and responding to science and technology-based emissions reduction goals.
"This collaboration is a great example of how digital sciences, technology, and innovation go hand in hand to drive industry development, in this case, mining. We are working with Atos to develop advanced, efficient, and sustainable solutions for the new mining industry," said Inria Chile CEO, Nayat Sánchez-Pi.
This partnership is also an example of the opportunities that collaborating with local organizations represents for French companies with a presence in Latin America. 
"For us, this alliance with Inria Chile is of utmost importance as it allows us to contribute to the sustainable development of the mining industry in the region, driving its transformation towards goals that ensure the neutrality of its carbon emissions," said Atos CEO for the Southern Andes region, Carlos Abril.
Atos and Inria, a strategic alliance
Atos and Inria have a long history of strategic collaboration in research and innovation, with the purpose of bringing industry and research closer together, enriching scientific research with concrete use cases, and better responding to industry needs by developing innovative solutions that translate into market offerings.
Atos and Inria have worked together in six areas of research, development, experimentation, and experience:
Decarbonization: eco-design and ecological operation of data centers, "green" applications, computer solutions to support sustainable development ("IT for green").
High-performance computing: in a context of increasing complexity and diversity of information technologies, the work will aim to improve application execution and monitoring - integrating machine learning - as well as improving communication optimization, all with a view to reducing energy consumption.
Climatology: improvement of numerical prediction systems for climatology, reduction of the associated computational costs and the energy footprint of numerical simulations.
Quantum computing: research on high-level programming languages and error correction codes for large-scale quantum computing (LSQ).
Cybersecurity: development of cryptographic capabilities, including the design of post-quantum algorithms resistant to certain types of cyberattacks, generation of threats, and security of systems in restricted environments.
Artificial Intelligence: working on reinforcement learning, in particular to consolidate Atos' capabilities in Artificial Intelligence for Defense, in order to assist in conducting operations on the ground.".